12x12 Collage Posters
What customers have to say about our Collage Poster Prints
January 8, 2019
Collage Poster
"I was expecting it to be flimsy like regular posters, but it's not! Its just a big piece of photo paper. Definitely something you shouldn't tape to the wall, it's worth getting a frame."
"i received the poster with a protective paper taped around it. photos came out nice. overall im happy with the product."
June 4, 2018
Absolutely LOVE this layout
"Beautiful quality and looks amazing in a gallery 16 x 20 frame. Plan to do several of these from family trips. I only wish there was a high count vertical one as well."
November 22, 2017
Beautiful Pet Memorial
"I have used the 11x14 to make Pet Memorials for 3 of my dogs that passed away. I picked the layout for one large picture and three smaller pictures. I was also able to add their names at the top and years they were born and passed at the bottom. All turned out just beautiful and look so nice in barnwood frames. I would like to suggest to Shutterfly to use a pet memorial as an example in their collage photos. I believe a lot of people would like to do the same thing for their pets. Thank you!"
12x12 Collage Posters
Turn your digital photos into custom wall art with a 12x12 collage poster from Shutterfly. Our 12x12 posters make for unique home décor, one-of-a-kind dorm décor and great customizable gifts. We offer a wide selection of layouts, styles and colors so you can design the perfect collage for your space.
Turn Photos into Wall Art
Collage posters are a great way to celebrate a special event or occasion, commemorate a beloved family member or pet, or cherish the time you spend with your family and friends. With easy to use layouts, backgrounds and designs, you can create the perfect poster simply by uploading your favorite photos to the Shutterfly website. Plus, our collage posters are printed on lux archival-quality paper, so your posters look fantastic for years to come.
Customize Your 12x12 Collage Poster
Making a custom poster is easier than you think. Take a look at some of our personalization options:
Choose a poster with exciting graphic designs like graduation caps, colorful florals, filmstrips or even a Disney princess castle.
Add up to 20 photos, or as few as two, depending on layout choice.
Choose a background showcasing your favorite color such as a stylish pattern like snowflakes, hearts, metallics and more depending on layout selections.
Add text like your name, monogram or important dates.
Upload your own design and create a poster highlighting your creative graphic designs, artwork or company logos.
Need some guidance on how to create the best customizable wall art? Take a moment to read our guides The Ultimate Creative Guide To Wall Art and How To Make A Photo Collage.
Find the Perfect Collage Poster Style
To help you find the right style of collage poster, we offer useful filters to narrow down your search. You can sort your search by using our Art Collection or Classic filters. You can also find style layouts perfect for holidays like Christmas or special events like graduations and vacations. These posters have corresponding graphics like evergreen trees, festive wreaths, customizable cut-outs in the shape of graduation years, Mickey Mouse or anniversary years.
Custom Wall Art for the Home or Office
Decorate every room in your home or office with our customizable wall art products. Some chic and stylish items to consider include Collage Square Metal Wall Art, 24x36 Framed Prints and Photo Pillows.
Related Products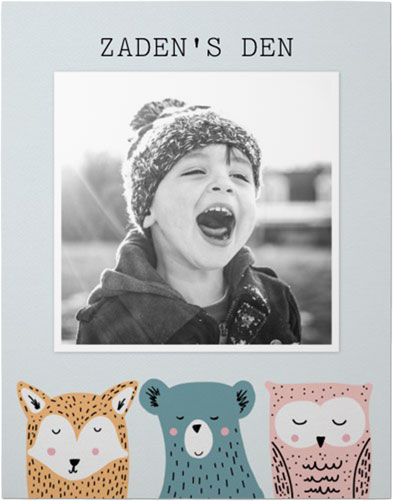 Adventure Animal Heads Premium Poster by Shutterfly. This premium matte poster is available in portrait and landscape so you can adorn your walls with your favorite prints and images.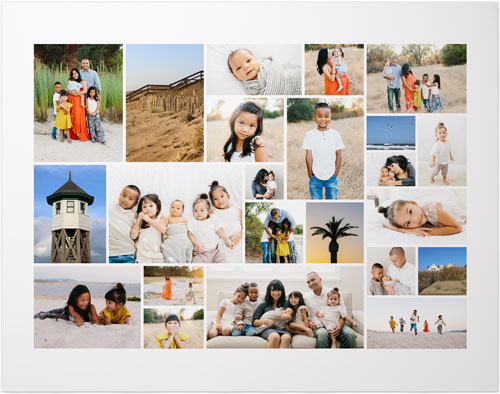 Gallery Collage of Twenty Three Premium Poster by Shutterfly. Posters are the most convenient way to bring art to your space. Pick your favorite images or quotes and print them on our premium matte posters.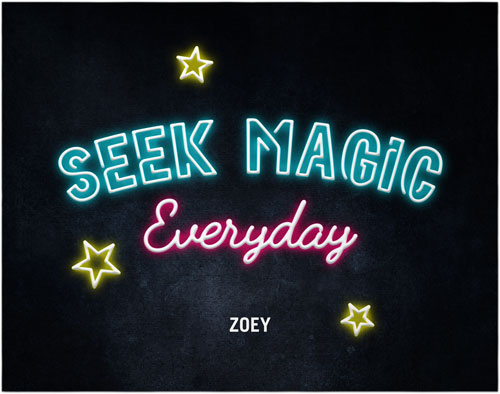 Seek Magic Neon Premium Poster by Shutterfly. This premium matte poster is available in portrait and landscape so you can adorn your walls with your favorite prints and images.