Collage Poster Prints
What customers have to say about our Collage Poster Prints
January 8, 2019
Collage Poster
"I was expecting it to be flimsy like regular posters, but it's not! Its just a big piece of photo paper. Definitely something you shouldn't tape to the wall, it's worth getting a frame."
"i received the poster with a protective paper taped around it. photos came out nice. overall im happy with the product."
June 4, 2018
Absolutely LOVE this layout
"Beautiful quality and looks amazing in a gallery 16 x 20 frame. Plan to do several of these from family trips. I only wish there was a high count vertical one as well."
November 22, 2017
Beautiful Pet Memorial
"I have used the 11x14 to make Pet Memorials for 3 of my dogs that passed away. I picked the layout for one large picture and three smaller pictures. I was also able to add their names at the top and years they were born and passed at the bottom. All turned out just beautiful and look so nice in barnwood frames. I would like to suggest to Shutterfly to use a pet memorial as an example in their collage photos. I believe a lot of people would like to do the same thing for their pets. Thank you!"
16x20 Photo Collage Poster
Create your perfect 16x20 photo collage poster, printed on long-lasting photographic paper that resists fading for generations. 16x20 poster is the perfect size for artwork, photography, sports posters, fundraisers, and more!

Combine photos from a single event or trip—or select pictures that share a common theme—for a final collage that's creative and cohesive. Choose between a number of backgrounds and layouts before uploading pictures and even adding text. With options to design either a landscape or portrait collage, you can create the perfect wall art for any nook and cranny in your home.
Preserve Memories with High-Quality Photo Prints
With smartphones in our pockets, it's easy to capture special memories in seconds. From smiling loved ones to island getaways, you may have hundreds of memories tucked away in your phone. Instead of letting those precious photos remain unseen, why not display your favorites around your home? A photo collage poster is a great way to display your photos so that you, your family, and your friends can enjoy them for years to come. Once you find the perfect inspiration for your photo collage, start large with a 16x20 poster.
How To Create A Photo Collage Poster
Choose your photos and template for the photo collage poster.
Rearrange the photos in the template until you are happy with their position.
Simply select the size you want, place the order, then you are ready to have your photo collage poster printed!
Make Beautiful Wall Art With Photo Prints
Blank walls can be tough to tackle. To add warmth and personality to your home, create beautiful wall art out of your most cherished photo prints. Fill your walls with custom canvas prints, metal prints, wood wall art, collage posters, and acrylic prints to showcase pictures of your loved ones. Add stunning frames and custom text to transform your best photos into creative pieces of home decor.
Related Products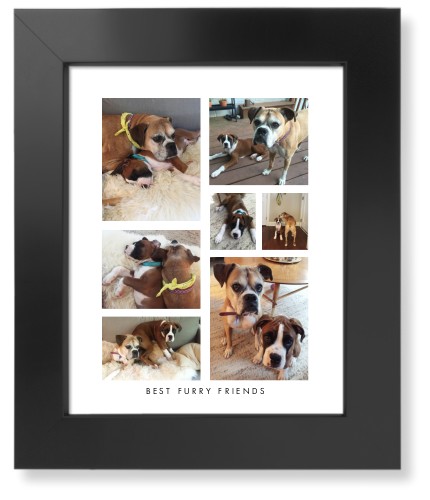 Vertical Gallery Collage of Seven Pet Art Print by Shutterfly. Turn a favorite image into a stunning gift, or addition to your own space, with a gallery-quality premium cardstock art print.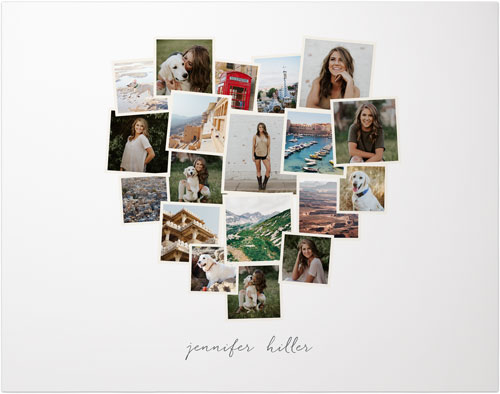 Tilted Heart Collage Landscape Premium Poster by Shutterfly. Posters are the most convenient way to bring art to your space. Pick your favorite images or quotes and print them on our premium matte posters.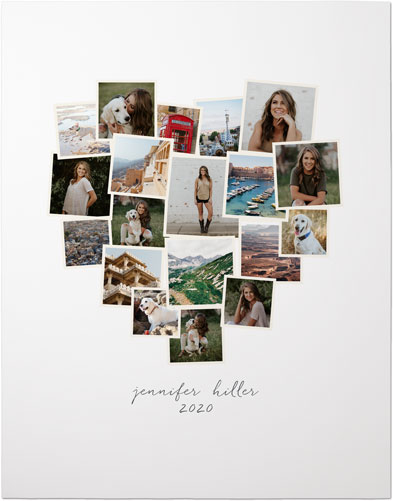 Tilted Heart Collage Portrait Premium Poster by Shutterfly. Posters are the most convenient way to bring art to your space. Pick your favorite images or quotes and print them on our premium matte posters.