What customers have to say about our Art Prints
January 7, 2019
Be careful how this company ships stuff!
"I had some prints made, and they were shipped in only a same size flimsy envelope. Nowhere on the envelope does it say "fargile", or "do not bend". When the envelope arrived at my post office they FOLDED the evnelope so it would fit in my box, and the images all had a slight crease in them! Shutterfly had to reprint and send again -costing them money."
June 8, 2018
Would definitely use this again!
"Received a free 8x10 art print on signature cardstock from the coke rewards thing. Used Wallpaper I downloaded from one of my favorite games and it turned out a lot better then I expected and I framed it. Definitely going to do more for my room if I get any more freebies from the coke rewards."
"I had never ordered the art prints before this one (and a few others in the same order) and was pleasantly surprised at the quality of the print, and how sharp and clear the photos were, even though they were small to fit in the design. I chose family photos, and moved them around until I liked the way they appeared (making sure the overlap didn't cover someone's face, etc.) and took the chance of ordering. I love these prints, and will be ordering more, both for myself and as gifts!"
May 23, 2017
Love this product!
"I use this product to showcase my own Artwork..........and my grandkids! Makes it look so much more professional!"
March 2, 2017
Great for a college dorm!
"I used the Art Library to create encouraging prints for my niece's dorm room. What a great resource!"
5x7 Art Prints
Design custom 5x7 prints with artwork or photos that will look great anywhere in the home. With Shutterfly, you can order photo prints in a beautiful mat with an elegant frame all at once. No need to go through the princess of ordering picture prints and getting them framed and matted elsewhere. Your personalized 5x7 print will be one of a kind and totally unique!
Personalized 5x7 Prints For Every Style
Shutterfly offers an incredible variety of 5x7 art prints that will perfectly accent a single image or a collage of all your favorite photos. Choose from traditional layouts with clean lines to contemporary patterns with a more relaxed feel. Add photos to our shaped designs like a moon, heart, or ampersand for an eye-catching and unique framed photo print. If you don't want framed art, you can always order the art print without a frame, but it's easy to add on a beautiful frame at an affordable price. We offer three colors to suit your individual tastes. Choose white, black, or rustic wood frames to match your modern or classic decor. For the text, express yourself with a name, monogram, or caption. With your choice of font style, size, and color, you can play around until it's just right for you.
Create the Gallery Wall of Your Dreams With 5x7 Art Prints
Sometimes choosing which photos to use in your 5x7 art print is the hardest part. You'll first want to decide if you want to use just one photo or tell a story with multiple in a photo collage print. A contemporary gallery wall typically features a little of each. Pair your 5x7 image with custom wood wall art, metal prints, or canvas prints for a breathtaking contrast. If you need some help arranging your art prints, be sure to check out our Design-a-Wall feature for step-by-step guidance. If you aren't looking for wall decor, 5x7 prints also make the perfect size for tabletop decor. They're smaller than the average piece of paper, but they'll look great on a coffee table, night stand, or desk. Just because it's small doesn't mean it can't be elegant. Design your 5x7 print with Pearl Shimmer Cardstock for a dazzling detail that looks like you spent much more on your home decor than you really did.
Affordable Art Prints Made Easy
At Shutterfly, you can get a professional look at an affordable price. Never again stand in a crowded store wondering how your photos would look in a cookie-cutter frame. Create gorgeous personalized framed pictures and artwork that will make your home your favorite place to be. Start with a 5x7 photo and branch out to make sure your home includes a wide variety of wall decor. Shutterfly's framed art print sizes range from 5x7 up to 16x20, so you'll have plenty of options for large format photo prints as well as photo collages where you need more space. You can create framed photo prints with family photos or choose a theme for any occasion. You loved ones will appreciate art prints as gifts for Christmas, birthday, weddings, anniversaries, and more.
Related Products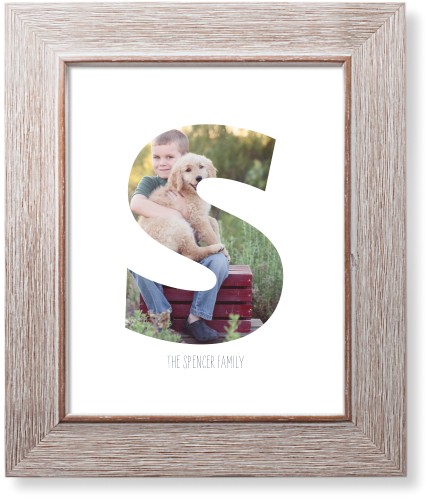 Letter Monogram Art Print by Shutterfly. Turn a favorite image into a stunning gift, or addition to your own space, with a gallery-quality premium cardstock art print.
Love Contemporary Art Print by Shutterfly. Turn a favorite image into a stunning gift, or addition to your own space, with a gallery-quality premium cardstock art print.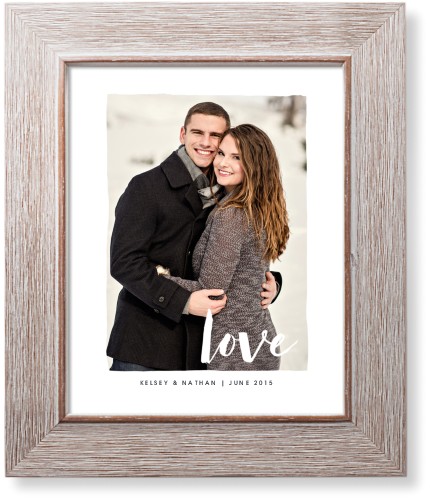 Love Script Portrait Art Print by Shutterfly. Turn a favorite image into a stunning gift, or addition to your own space, with a gallery-quality premium cardstock art print.