What customers have to say about our Art Prints
January 7, 2019
Be careful how this company ships stuff!
"I had some prints made, and they were shipped in only a same size flimsy envelope. Nowhere on the envelope does it say "fargile", or "do not bend". When the envelope arrived at my post office they FOLDED the evnelope so it would fit in my box, and the images all had a slight crease in them! Shutterfly had to reprint and send again -costing them money."
June 8, 2018
Would definitely use this again!
"Received a free 8x10 art print on signature cardstock from the coke rewards thing. Used Wallpaper I downloaded from one of my favorite games and it turned out a lot better then I expected and I framed it. Definitely going to do more for my room if I get any more freebies from the coke rewards."
"I had never ordered the art prints before this one (and a few others in the same order) and was pleasantly surprised at the quality of the print, and how sharp and clear the photos were, even though they were small to fit in the design. I chose family photos, and moved them around until I liked the way they appeared (making sure the overlap didn't cover someone's face, etc.) and took the chance of ordering. I love these prints, and will be ordering more, both for myself and as gifts!"
May 23, 2017
Love this product!
"I use this product to showcase my own Artwork..........and my grandkids! Makes it look so much more professional!"
March 2, 2017
Great for a college dorm!
"I used the Art Library to create encouraging prints for my niece's dorm room. What a great resource!"
8x10 Art Prints
Adorning your walls with images of your loved ones is a great way to add warmth to your home. As soon as you walk through the door, you'll smile as friends and family light up your hallway and living room. When choosing artwork for your home, you don't want to use just any old frame from the discount store. Find affordable and stylish custom art prints at Shutterfly. With a variety of sizes to choose from, 8x10 art prints are a great place to start.
Match Any Decor With Personalized 8x10 Art Prints
Whether you'd like to fill a small space in your bedroom or a large wall in the den, you'll find an assortment of 8x10 art prints to suit your needs. Mix and match designs of varying sizes to create a professional looking gallery wall or use a few of the same designs if you prefer a symmetrical look. Keep it simple with a classic collage layout for your family portraits, or choose a contemporary shape for fun candid photos. Choose a modern circle design as an eye-catching break from standard corners, and add custom text to make it your own. With dozens of fonts, sizes, and colors, you can create a one-of-a-kind print you'll be proud to hang.
Our 8x10 art prints look great by themselves, but you could opt to add a stylish frame in the color of your choice. Use black or white frames in your modern condo, or consider our rustic frame to match any home decor. Because our frames are glare-free, you could choose to upgrade to Pearl Shimmer Paper to give your photos an extra sheen.
Custom 8x10 Art Prints Anyone Would Appreciate
Are you looking for the perfect holiday gift for family? Shutterfly's personalized 8x10 art prints make wonderful presents for parents, grandparents, or even extended family. If you just recently had a baby, save Grandma the trouble of printing her photos and placing them in a store-bought frame. Surprise her with custom art featuring her newest bundle of joy in a design that will look great with her decor.
You'll find more than 8x10 art prints at Shutterfly. Find hundreds of custom gift ideas for birthdays, holidays, or everyday appreciation. From personalized calendars, wood wall decor, stainless steel mugs, you'll find something for everyone on your list.
Related Products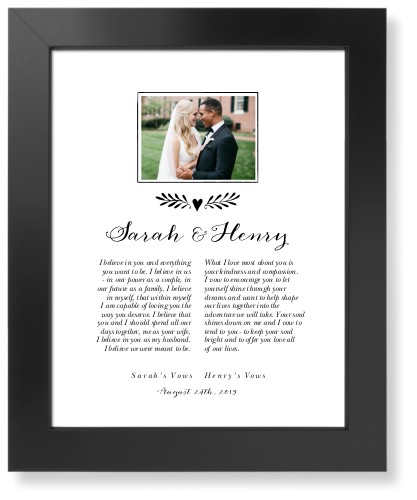 Elegant Wedding Vow Collage Art Print by Shutterfly. Turn a favorite image into a stunning gift, or addition to your own space, with a gallery-quality premium cardstock art print.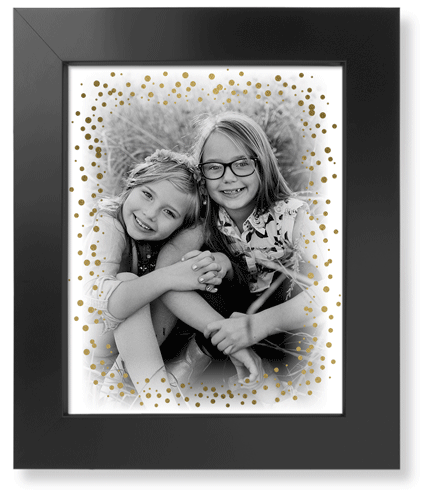 Kids Bokeh Brushed Frame Art Print by Shutterfly. Turn a favorite image into a chic gift, or new addition to your space, with a gallery-quality premium cardstock art print. Real foil accents add a luxe touch to complement any photo. ...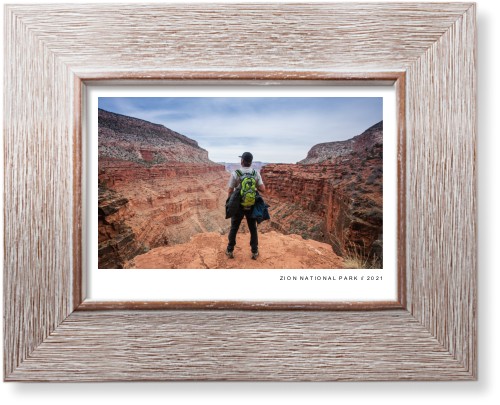 Modern Gallery Art Print by Shutterfly. Turn a favorite image into a stunning gift, or addition to your own space, with a gallery quality premium cardstock art print. Transform your best memories into custom wall art with photo art prints ...