What customers have to say about our Art Prints
January 7, 2019
Be careful how this company ships stuff!
"I had some prints made, and they were shipped in only a same size flimsy envelope. Nowhere on the envelope does it say "fargile", or "do not bend". When the envelope arrived at my post office they FOLDED the evnelope so it would fit in my box, and the images all had a slight crease in them! Shutterfly had to reprint and send again -costing them money."
June 8, 2018
Would definitely use this again!
"Received a free 8x10 art print on signature cardstock from the coke rewards thing. Used Wallpaper I downloaded from one of my favorite games and it turned out a lot better then I expected and I framed it. Definitely going to do more for my room if I get any more freebies from the coke rewards."
"I had never ordered the art prints before this one (and a few others in the same order) and was pleasantly surprised at the quality of the print, and how sharp and clear the photos were, even though they were small to fit in the design. I chose family photos, and moved them around until I liked the way they appeared (making sure the overlap didn't cover someone's face, etc.) and took the chance of ordering. I love these prints, and will be ordering more, both for myself and as gifts!"
May 23, 2017
Love this product!
"I use this product to showcase my own Artwork..........and my grandkids! Makes it look so much more professional!"
March 2, 2017
Great for a college dorm!
"I used the Art Library to create encouraging prints for my niece's dorm room. What a great resource!"
Pet Art Prints
Stylishly display your most loved photos of your four-legged family member in Shutterfly's personalized art prints featuring pet-themed designs. These prints are the perfect way to make art out of your pictures and will add more personality and style to any room in your home. Our gallery-quality premium cardstock art prints elevate the look of any photo. Depending on the overall look you want, choose our Signature cardstock with a matte finish or our Pearl Shimmer cardstock with a luxe, pearlescent finish. No matter what you're looking for, you'll find a pet art print design that meets your needs and that can be customized to suit any style preference and personality. Pet art prints also make thoughtful gifts for any other animal lover in your life for any occasion!
Decorate Your Home with Pet Art Prints
Designing personalized art prints using your most precious pet photos is fun, convenient and affordable with Shutterfly. These prints will bring warmth to your home and add a smile to your face every day. We offer a variety of customization options, enabling you to create pet art prints that are truly unique to you. After selecting your favorite print design, select the color of your no glare, glass-free frame out of black, white or rustic – or opt for no frame. Then upload your photos and arrange them on your art print template. You can choose to use one favorite photo as the focal point of your art print or create a collage of various photos - either way, your design will look beautiful when on display in your home. Make your art print even more personalized by selecting your favorite colors, font styles and other design elements and adding your pet's name, a special quote or favorite saying.
More Ways to Showcase Your Pet Photos and Pet Art
In addition to art prints, Shutterfly features a wide array of ways you can display your pet photos throughout your home. We carry desktop plaques, ceramic tiles, photo collage posters, canvas prints and more. For more tips and inspiration when designing custom wall art, Shutterfly has you covered with design ideas that are sure to bring out the best in all of your pet themed decor.
Related Products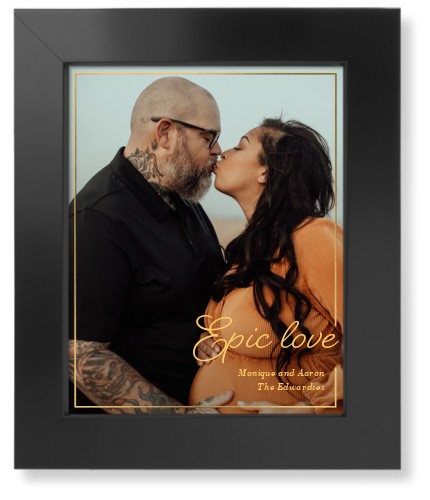 Epic Love Border Art Print by Shutterfly. Add an elevated finishing touch to your art prints with shimmering personalized foil. The raised foil calls attention to design details and text customization, making moments and memories truly shine. The elegant foil ...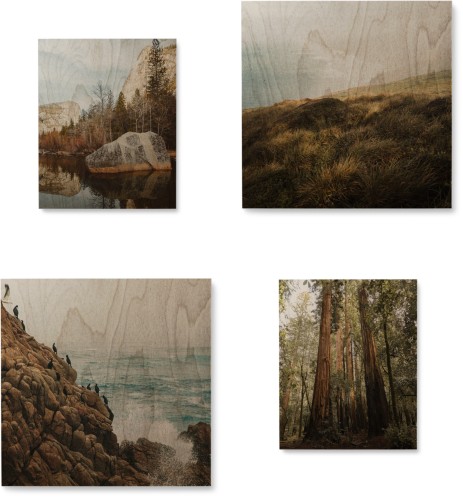 Step & Repeat Four Right Wood Wall Art by Shutterfly. Use our Design-a-Wall tool to create a striking arrangement of wood wall art. Comes with a special kit to make hanging easy and flawless.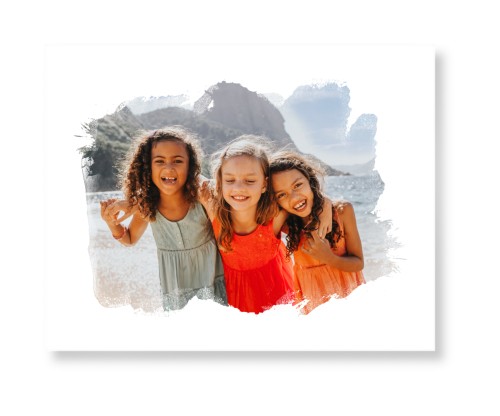 Brushed Moments Landscape Art Print by Shutterfly. Turn a favorite image into a stunning gift, or addition to your own space, with a gallery quality premium cardstock art print.