For new moms the idea of creating a baby scrapbook is always looming—like the laundry. Your everyday life changes so profoundly with a new little person, there's hardly time to organize the thousands of pictures you've taken, let alone compile a baby album equal in cuteness to the album's protagonist. Tabitha Lawson found a great solution in the Celebrate Everyday Life digital scrapbook template created for Shutterfly by famed scrapbook artist Ali Edwards. The Celebrate Everyday Life book allowed Tabitha to create something meaningful for her daughter, Ava, that captures the major milestones and everything-in-between.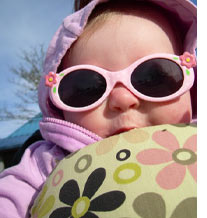 Another day, another discovery
Though not specifically designed as a baby scrapbook, the Celebrate Everyday Life template can accommodate everything you'd want to put in a traditional album. On the 'Everyday Routines' page we see Ava looking peaceful at naptime. 'Everyday Beauty' shows a black-and-white picture of Ava looking off in the distance capturing her feisty five-month-old spirit. And the 'Little Things' page captures first-year milestones including smiling, crawling and walking. Tabitha adds, "I also like that it had 'Favorite Foods.' Instead of just writing down Ava's favorite foods, I could show her eating them and remember the order in which she tried everything—rice cereal, fruits and veggies, biscuits, spaghetti, watermelon, and of course birthday cupcakes." Ali Edwards has even created a step-by-step tutorial for using her template which makes putting the book together that much simpler. And simplicity is everything for new moms.
Tabitha says that this template also helped her narrow down the hundreds of pictures she has of her daughter. Indeed her most cherished photos are in the book—and some of them are of moments she otherwise would have missed. One of those even made the front cover. "Ava and I were taking a walk to the park. She was in a baby pouch and I just held out the camera and snapped a picture of her in front of me. She is making the cutest wrinkled face and literally hanging out wearing sunglasses, which, of course, are huge on her little face. Too cute."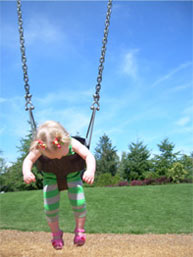 Finding joy in the process
In the process of creating Ava's baby photo book, Tabitha learned that babies don't always sit to have their picture taken. You have to grab them in the moment. And you take what you get. That's why she's a fan of photo editing. One of her favorites is the Shutterfly soft focus tool. "It can make a picture look so dreamy." The key is to take a lot of pictures and spend time culling together the favorites—the ones that capture a particular emotion or experience. And when it comes to actually making the photo book, Tabitha says, "enjoy the process. As a new mom it's hard to find the time to make one of these. I spent many nights in front of the computer after Ava went to sleep to create this book, but I am thankful that I did because I love the finished product."
A baby's first year is by far the year of greatest change and growth both for the baby and for the family. There's so much worth capturing and yet it goes by so quickly. Often our only memories are tied to the photographs we've taken. The Celebrate Everyday Life book reminds us that a new family's ordinary moments are actually extraordinary and to include them in a photo book so they can be remembered and enjoyed for a lifetime.