Wedding Invitation Samples

FREE Wedding Invitation Samples

Two Ways to Order FREE Invitations

Feel the quality firsthand with
a free sample kit
Order a FREE Sample Kit and get a curated range of unique designs to see and feel the available customization options like foil-stamping, papers and trims.

Kit includes an exclusive 40% off coupon offer.
Please select a valid date.
Congrats! When are you getting married?
You'll need a credit card to create an account, but you won't be charged – this kit is 100% free! For any questions regarding ordering the Free Sample Kit, please contact our customer support team: 888-225-7159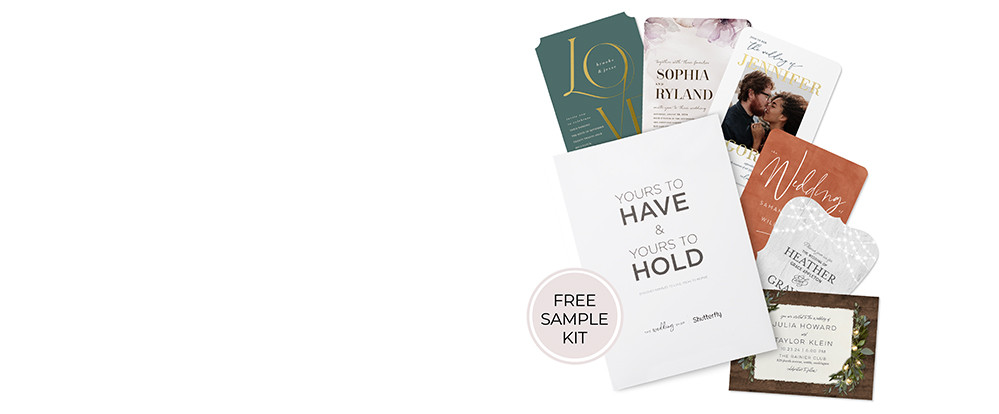 Get 5 FREE personalized samples of designs you love*
Choose up to 5 designs and personalize with your wedding details, so you can decide on the perfect one – absolutely free.

*Excludes foil-stamped and glitter cards.
Choose a design & click on the "Personalize" button
Personalize
your card
Add to your cart. Repeat with each design you choose.
Apply code: 5WEDINVITES
at checkout.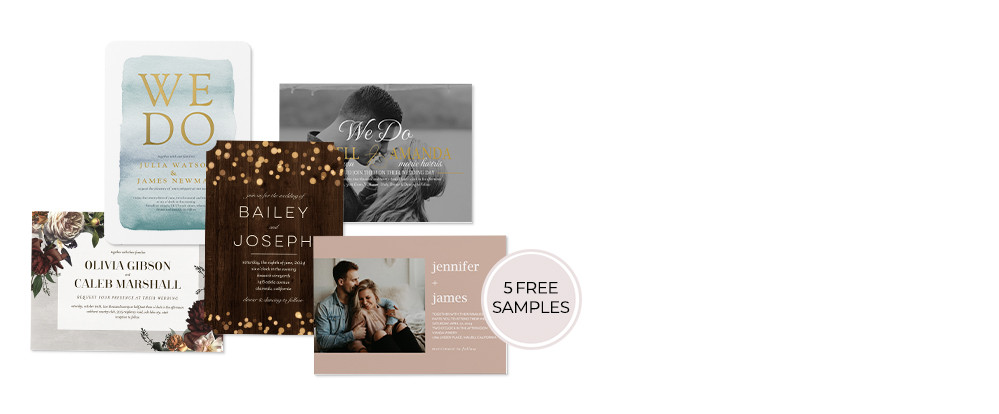 Free Wedding Invitation Samples
We believe in personalizing every detail of your big day, including your wedding invitations. It takes more than seeing a design online to be completely certain that a particular wedding invitation is right for you. That's why we offer five free wedding invitation samples so the bride-to-be can experience and feel the outstanding quality of our stationery firsthand. Pick out the perfect personalized wedding invitations for you and your partner with our free sample kit. You can customize your wedding invites to fit the location and theme, and get to choose from your favorite template once you receive the samples you've designed. You'll need a credit card to create an account, but you won't be charged — your wedding invitation sample kit is 100% free!
How to Get Free Wedding Invitation Samples
To get started, simply choose an invitation design and color from our wedding stationery collections and then click on the "Personalize" button. You can then add all of your ceremony and reception details, along with a photo if you've chosen one of our photo wedding invites. Once you finish entering in your wedding details, you can then choose paper type and trim. After you have five invitations picked out, just apply the code 5WEDINVITES at checkout and your stunning sample pack will be delivered right to your doorstep. This free wedding invitation sample offer excludes foil-stamped and glitter cards.
We make it easy for you to personalize your wedding invitation message so it matches the feel and tone of your upcoming nuptials. For inspiration on how to word your invitations, read our wedding invitation wording guide. Make your free wedding invitation samples one-of-a-kind by adding a photo of the happy couple and personalizing the card design to suit your style. Made with high-quality, luxe paper, you can customize back-of-card designs to include a photo or design detail that ties into your wedding theme.
Custom Wedding Invitation Sample Themes and Styles
From our unique designs to the custom feel of our newest collection, Wedding Paper Divas, you can use your wedding invitations to set the tone. Whether you're going rustic or modern, foil-stamped or glitter, make your wedding inspiration come to life with free wedding invitation samples from Shutterfly. When designing the wedding invitations in your free sample kit, consider the theme or location of your wedding. Shutterfly has a wedding invitation template for any style you love. Whether you're hosting a destination wedding or rustic theme for your big day, you can personalize the perfect wedding invitation samples with Shutterfly. Whether you have a barn or beach wedding, browse through our styles and themes that will fit the occasion. From watercolor and floral designs, you can make the best wedding invite with our customization tools. Add a favorite photo and the wedding details to make custom wedding invitations that are perfect for the happy couple. When you're ready to design more wedding stationery with Shutterfly, customize save the dates, RSVP cards, wedding announcements, and more.