Learn how other affiliates succeed in the Shutterfly Affiliate Program by reading affiliate Success Stories. Here, you can understand new business models directly from our top affiliates and learn how you too can be successful.
To sure to bookmark this page as New Success Stories will be added.
Upromise (Business Model, Loyalty Program)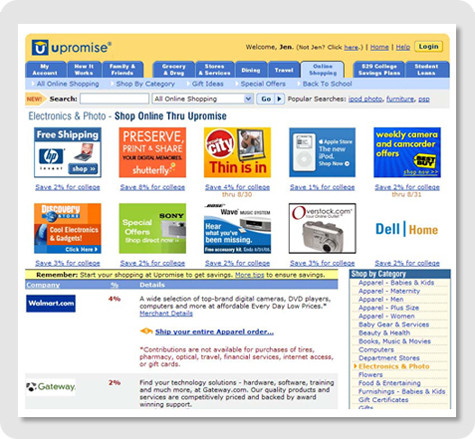 Upromise joined Shutterfly back in August 2004 and has become one of Shutterfly's top performing Affiliates.
Upromise is the country's largest non-governmental service helping families save for college. The service helps families invest in their own tax-advantaged college savings plan or use contributions to pay off student loans.
"Shutterfly has been an innovative partner for Upromise," said Mary Beth Padian, Director of the Upromise online mall. "Using our powerful target marketing capabilities, we have been able to identify Upromise members who are photo enthusiasts and provide them with relevant messages about Shutterfly's products and services. This allows us to deliver great value to our members as well as help Shutterfly build a new customer base. We look forward to expanding our relationship and continuing to deliver the right message to the right member at the right time."
Ebates (Business Model, Loyalty Program)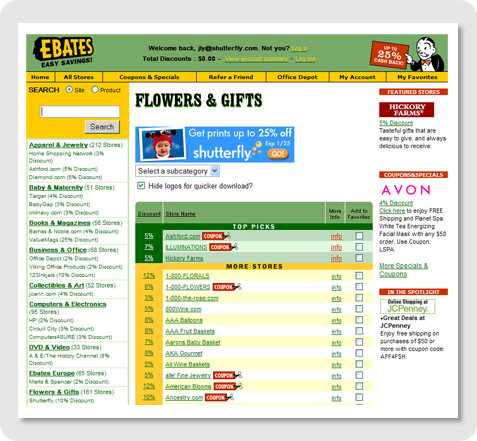 Ebates and Shutterfly have only been working together for a short time (Ebates became a Shutterfly affiliate in September, 2004), but in that time, Ebates has become one of Shutterfly's most successful and largest traffic-driving partners. The rapid growth of the Ebates/Shutterfly affiliate relationship came as a result of the very close working relationship between the two companies. In thinking about what advice we can share that might benefit other affiliate partners of Shutterfly's we boiled down our success to... (read the full story).
Questions about the Shutterfly Affiliate Program?
Contact our affiliate manager at affiliates@shutterfly.com.