Sending
graduation invitations
is a formal occasion for many. It's not everyday that you take a trip to the post office and drop your greetings through the mail. In fact, you may not even remember the last time you addressed an envelope. Whether you are graduating from high school or college, this is one of those major life accomplishments that deserves formal attention and proper etiquette. Getting your graduation invites addressed is one of the first steps in the right direction towards inviting your loved ones to help you celebrate this special day. Between creating the perfect
graduation invitation wording
, searching for extended family addresses', and figuring out the right postage– there's a lot to do. So if you find yourself asking how to address your graduation invitations, we're here to help. Check out our step-by-step guidance below.
Design Graduation Cards
Celebrate with grad announcements, invites, and thank you cards
Jump to:
How To Address Graduation Announcements and Invitations
Ensure that your good news gets to where it's going and learn how to properly address your graduation invites with these easy steps:
Print the recipient's address on the front of the envelope.

You've worked hard to create a select guest list for your graduation celebrations so when addressing your envelopes, this information goes front and center.

Hand write your recipient's address, or have them printed.

Write them front and center, legibly onto the envelope in three lines including: their full name on the first line, their street address on the second and finally city, state and zip code on the third line. Due to the formality of the celebrations avoid using abbreviations and spell words out completely.

Print or stamp the return address.

This goes in the upper left-hand corner or back flap of the envelope. Include the address of the person sending the invitation, usually yourself, so that it can be used by recipients as a way to respond if need be. Include your full name on the first line (optional), your street address on the second and the city, state and zip code in the return address. The same rules apply for inscribing your return address as did with your recipient's address.

Add a postage stamp.

This goes in the upper right-hand corner of the envelope. This will pay for the delivery of your party invite.
Tips For Addressing Graduation Invitations
With technology making it easier than ever to stay in touch, it may seem like a reasonable idea to invite your friends and family through a quick text message, email or even social media. Although efficient, your graduation is one milestone that deserves to be treated the old fashioned way (signed, sealed, and delivered). Keep these addressing tips and tricks in mind prior to sending your invites.
Consider creating

custom return address labels

or

custom postage stamps

for your graduation correspondence. They will help you elevate your invitations, save you time and add a little style to your envelopes.

Use blue or black ink and write your addresses. Addressing your envelope so that it's legible will make your correspondence stand out in a bold way. Not to mention, it'll be easier for the post office to get your invitation to its destination.

Double check that you have the right amount of postage. Square shaped envelopes and heavier letters cost more for delivery.

You may want to reference our guide for

how to address a letter

if you're looking for additional instruction.
How To Address Graduation Invitations To A Family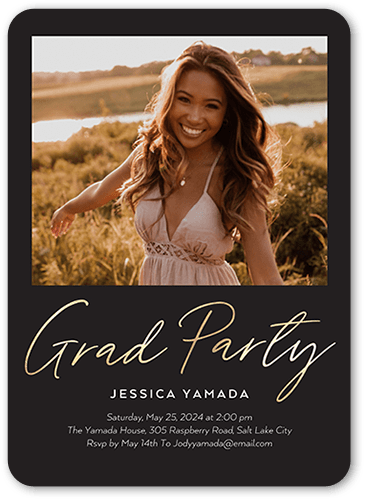 Your party invites will not only inform your loved ones of the celebration, but will also serve as a special keepsake for you, the soon-to-be alumni, years down the road. With these easy steps you'll have your graduation invites in the mailbox and on their way to spread the good news.
When it comes to graduation invitations, more often than not, your loved ones will want to send you

graduation wishes

, messages and

graduation gifts

after receiving your invitation. In that regard, it's important to include your return address so they know where to send their replies and goodies.

You know best how your family wants to be addressed. Make sure you use the correct forms of "Mrs." "Mr." and "Ms." on the envelopes.
Resources Related to How To Address Graduation Invitations
If you're also sending
graduation announcements
along with your invitations, you should use the same formal addressing format. Consider allowing Shutterfly to lend a helping hand with our
mailing solutions
if you're still having trouble or have too many items on your to-do list.
Once your graduation correspondence is on it's way, be sure that all your
graduation party ideas
and details are in place. Your invitations will serve as a look into what the big day will be all about and you won't want to disappoint your guests. You can also be sure you're ceremony ready when the big day rolls around with our guide for
how to wear a graduation cap
and complete lists of
graduation thank you card sayings
.