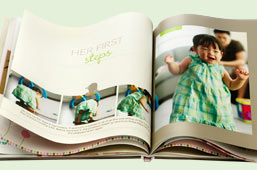 Your baby is not even a week old and you've already started accumulating meaningful stuff. Like the hospital bracelet. And the card from the hospital bassinet with that cute little footprint. Add to that all of the congratulations cards and emails and you're already on your way to creating a full feature documentary about your baby. It can be overwhelming.
Enter: baby photo books and digi-scrap templates. Digitally designed baby photo books capture the richness and texture of traditional scrapbooking with none of the mess. With all the extra laundry you're managing, the less mess the better. And scrapping adds up. The album, the extra pages, the plastic protectors, the stickers, papers, embellishments, tape, glue, corners, etc... You can't buy scrap materials for just one project. You end up with a scrap-load of leftovers. So if you're not a dedicated scrapbook artist, a baby photo book with dozens of design, color and layout choices, is a wonderful solution.
The Sweet Baby photo book template by Becky Higgins takes it a step further. This book gives you the look and feel of a digital scrapbooking but requires no knowledge of design software. Sweet Baby gives you pages for each month AND extra pages for family trees, favorite things, leading up to the birth, baby's arrival, coming home, first visitors and other cute little details to remember. And you can scan some of the things you collected or keep them in a separate baby box or affix them to the inside back cover. You can also leave a blank space on one page with the caption "first haircut" and attach a little cellophane pouch with a lock of hair for safe keeping. Becky has developed a great guide to help you through the process of creating your own Sweet Baby photo book.