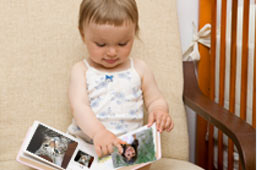 Photo books have many more uses than just a photo album. Consider these ideas from some of our creative Shutterfly Gallery members:
1. Create a storybook with your baby's stuffed animal. The Adventures of Runny Babbit is a great example of how to create a playful story using your child's favorite stuffed friend. This just might be the book that gets read every night.
2. Create a book about body parts, numbers or colors using pictures of objects from baby's life. WarmerW created Gordon's First Body Book to teach her son about his world. The book starts by diagramming Gordon's body but then gets into things that Gordon does—playing, eating, laughing, crying, crawling, running etc. What a great way to catch many of those first year milestones too.
3. Make the baby book you never had. KelliM2 created her baby book using old photos and newspaper clippings from when she and her sisters were born. Kelli is a triplet which meant her mom had barely enough time to create a baby scrapbook, let alone three—one for each sister. So Kelli borrowed the one baby album her mom created, scanned the images and recreated her baby scrapbook with Shutterfly. She printed two extra copies and now each sister has a book that documents their first few years. It's never too late to create a baby book.
4. Introduce your little one to the most important people in his life by creating a picture book of close family and friends. Amy McManigal's Everybody Loves Turner does the trick. The book is digitally scrapped but you can achieve the same effect using Shutterfly backgrounds and layouts. Dedicate each page to a different family member and write his or her name in the caption. Amy even includes pages for family pets and favorite dolls. It's a great way to stay close to even far-away relatives.