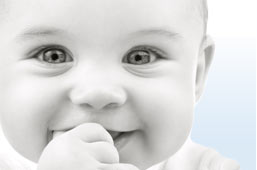 Want adorable pictures of your baby without getting professional portraits taken? You can take great-looking pictures at home with a do-it-yourself photo shoot that consists of lighting, a nice backdrop and your baby. Here's how it's done.
Hang a backdrop
The backdrop of your shoot should be a large piece of fabric that hangs from the wall and down to the floor so it fills the entire camera frame. Solid, bright colors and textured material are fine but they shouldn't distract from baby.
For a more formal portrait backdrop for your baby photos, use a bed sheet—light-colored cotton or dark-colored satin, depending on your style. Keep your baby away from the backdrop so that the sheet's creases and imperfections are out of focus.
Light the shoot
Light is one of the most important elements in a good picture, and natural light reduces the need to use your camera's harsh flash. Find a room in your house that receives a lot of natural light. If that light isn't sufficient, supplement it with non-florescent lighting such as high-wattage reading lamps. (Make sure they're secure and won't accidently tip over). The light source should be in front of, not behind where you plan on setting up. For a more dramatic effect, shoot with light flooding your baby's face from one side, instead of from the front.
Photograph your baby
First and foremost, choose an appropriate time for the baby photo shoot; babies tend to be in better moods after a feeding or nap. Get set up in advance by moving furniture out of the way or have your backdrop pre-hung so you can place your baby in the environment before the mood is lost. Ensure she's comfortable; find something soft and secure (a rug, a blanket or even a car seat) for her to lie on, make sure the room isn't too hot or too cold and surround her with her favorite toys.
Use a tripod or place your camera on a flat, steady surface and take dozens of shots. That'll guarantee you'll get at least a few great photos for your effort. Photograph more than just your baby's face: shoot close-ups of her feet, hands and bottom.
Work quickly, especially if your baby can crawl. If she can't sit on her own, pose her so she's in a supported position. Don't hide behind your camera—make sure your baby sees you while you sing and make faces. Capture spontaneous expressions, not just smiles; worried looks and even grumpy cries can make for interesting pictures. Tickling your baby with a feather will bring out that look of wonder and curiosity. If she's fussy, don't get impatient. Stop the shoot and try again later when she's in a better mood.
Now collect all of the wonderful shots you've taken during your baby photo shoot and show off your baby and your new photography skills by creating a collage poster, calendar or brag book for baby's grandparents.