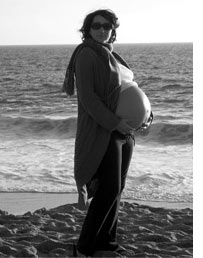 When Petia Mitchell was pregnant with her twins Oliver and Ava, she daydreamed about life with her babies—the nursery, the strolls, the adorable clothes and double the cuddling. And like most moms, she couldn't imagine the chaos and exhaustion that would come with the birth of her beautiful twins. But based on conversations with other parents, she knew for certain the year would pass by quickly. And so, Petia set out to preserve the many milestones and stories of her twins' first year. Becoming an instant family of four also meant that the Mitchell family would soon be complete. Since there would be no 'second time around,' Petia knew she had to get it right from the start. She searched for a storytelling and archiving solution that was simple to manage and flexible enough to satisfy her own need for creative expression.
It's not all black and white
Petia grew up in a household where her dad often played photographer and many of her baby photos were shot in black and white. "Black and white photography keeps the distractions down and allows for the character or the subject to shine through. It's also so much more flattering!" The original images are in color, but Petia made them black and white using photo-editing software and Shutterfly photo editing tools. The rest of the family's photo books are in color with black and whites peppered in. But she wanted the twins' first album to stand apart.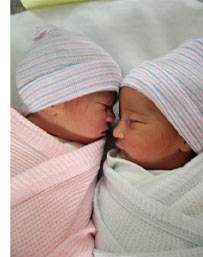 Carving out time to reflect
So how does a new mom to multiples manage to find time for documenting two new lives? Petia is a very practical person and explains, "within the first two weeks I realized that there was no way I was going to remember any of this or have time to dedicate to the creation of a 'First Year' Album. But I decided I could spare 30 minutes once a week to uploading pictures and jotting down my thoughts. I was never one to write in a journal but this method helped me manage the little free time I had and, looking back, presented a more honest view of what was going on at the time. And it was stress-free, so I've kept it up even two years later." Starting a first-year baby book while you're pregnant, and with time on your hands, is a great way to avoid sifting through thousands of pictures at years' end. By adding photos and stories to the book as the weeks pass, the book and the first year will wrap up around the same time.
Creating a photo book can save time in other ways too. "I wanted to thank and remember the people who helped us through a difficult but incredible year." Having created the unabridged 99-page version, Petia quickly edited down the number of pictures to create condensed versions for the twins' grandparents who played an integral role in the first year.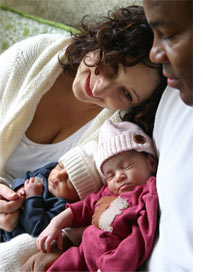 Calling the shots
Even though Petia is the family photographer she has managed to get herself in many of the shots by asking just about anyone to fill in for her. Always conscious of the moment or emotion she wants to capture she is sure to request multiple shots and has even found herself "directing" the shoot, telling the stand-in photographer to turn the camera vertically if it makes sense or use the zoom. "After that, I just let things unfold naturally...You'd be surprised how willing people are to be impromptu photographers when given a bit of encouragement." Petia's favorite pictures (on pages 12-15) were taken by a friend she's known since high school. "We had reached a new level of exhaustion that morning. The babies were only three weeks old and had cried almost all night, meaning no one had slept. We were ready to cancel, when my friend showed up at the door. So we welcomed her. We talked; we cried; we laughed—all the while taking pictures. I'm so glad my friend showed up earlier than expected and helped us capture the hazy, sleepless beginning to our family story."
Individuality shines through
Two babies mean twice the work and twice the pictures. Petia can't even guess how many pictures she has of Ava and Oliver's first year. She made four photo books, varying in length from 60-100 pages, to cover the entire year—the black-and-white version is just the highlights. She says that one of her challenges is making sure Oliver and Ava have equal screen time and, more importantly, that the photographs capture them as individuals both in terms of their personalities and development. Petia's meticulous selection of pictures has paid off as the twins' unique journeys and personalities shine through every expression. And so does their special connection to each other. "The cover shot is so special to me. It makes me smile every time. The twins were about month old and no matter which way we left them on the bed they always found a way to face each other. I loved that!"