What customers have to say about our Christmas Cards
January 27, 2019
I highly recommend this card!!
"Absolutely love this card they came out perfect!"
January 23, 2019
good purchase
"Paper is excellent quality as is the envelope. Shipping can be high unless you are ordering a larger number of cards but I only bought one."
January 23, 2019
I will absolutely use this product again.
"The first time I have used Shutterfly for our annual greeting card. Very pleased and will use again."
January 22, 2019
Chinese New Year
"Christmas came too soon. No cards went out. New Year's came and went! Still no cards were sent out. But thanx to Shutterfly, made it for a Chinese Greeting! Beautiful cards front and back with pictures of family sent! Halleluah!!!!!"
January 22, 2019
I looved these cards and they arrived so quickly!
"Shutterfly makes last minute projects easy .. I love these holiday cards and continue to make photo books each month with their app as well as edits on desktop site. I love Shutterfly!"
Luxury Christmas Cards
While Christmastime is definitely a great time of the year for get-togethers with family and close friends, chances are that you aren't going to be able to see everyone you know over the holiday season. Between purchasing gifts and organizing meals, you have a lot on your plate to get done before the big day arrives. This is where red Christmas cards come in handy, as they allow you to stay in touch with your loved ones even if they live far away. If you have a bit of holiday spending money left over once you've taken care of all your arrangements at home, consider investing in a set of premium Christmas cards from Shutterfly.
Make Them Your Own
If you are pressed for time, you might be tempted to drive over to your nearest retail store and pick up a box of general cards to send. However, with the quick service offered at Shutterfly, you can get yourself a set that are distinctive and unique and still have them in the mail in time for Christmas Eve. With the premium Christmas cards we have available, you are bound to find something that you love and that reflects your family's personality and lifestyle. Whether you want something that recipients could use for a glass ornament or something with a series of pictures to stand on their mantles, we have you covered. Just input your preferences and photos and we'll do the rest.
Cover Your Bases
At Shutterfly, our products aren't just limited to cards. We have a large number of items that make great gifts or decorations for your home. Let your parents see your family's bright faces every day with a custom coffee mug covered in photographs or get a stylish metal print to give your living room a modern edge. Regardless of the occasion, you can count on us to have your back.
Related Products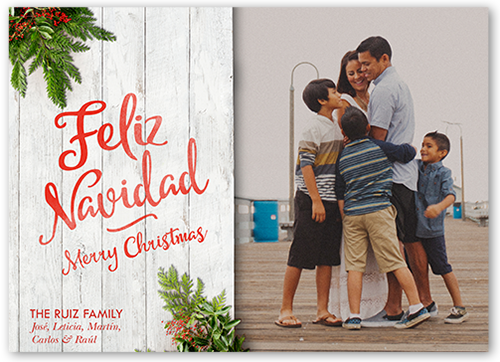 Esplendor De Madera 5x7 Tarjeta de Navidad Card by Petite Lemon. Share holiday memories con familia y amigos by adding a special personalized message to your customized tarjeta de Navidad – including all Spanish letras and acentos. It's the perfect ...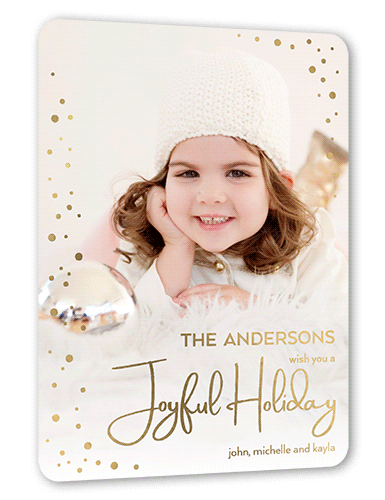 Cursive Shine 6x8 Personalized Foil Card by Éclair Paper Company. Send a holiday card friends and family will love. Add your own greeting and everyone's names. There's room for more photos and wishes on the back, too.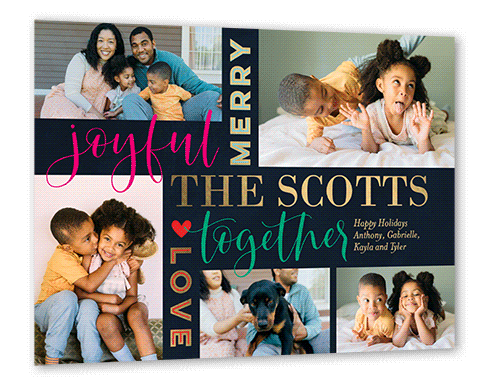 Whimsical Family 6x8 Personalized Foil Card by Petite Lemon. Send a holiday card friends and family will love. Add your own greeting and everyone's names. There's room for more photos and wishes on the back, too.