What customers have to say about our Christmas Cards
January 27, 2019
I highly recommend this card!!
"Absolutely love this card they came out perfect!"
January 23, 2019
good purchase
"Paper is excellent quality as is the envelope. Shipping can be high unless you are ordering a larger number of cards but I only bought one."
January 23, 2019
I will absolutely use this product again.
"The first time I have used Shutterfly for our annual greeting card. Very pleased and will use again."
January 22, 2019
Chinese New Year
"Christmas came too soon. No cards went out. New Year's came and went! Still no cards were sent out. But thanx to Shutterfly, made it for a Chinese Greeting! Beautiful cards front and back with pictures of family sent! Halleluah!!!!!"
January 22, 2019
I looved these cards and they arrived so quickly!
"Shutterfly makes last minute projects easy .. I love these holiday cards and continue to make photo books each month with their app as well as edits on desktop site. I love Shutterfly!"
Premium Christmas Cards
While Christmastime is definitely a great time of the year for get-togethers with family and close friends, chances are that you aren't going to be able to see everyone you know over the holiday season. Between purchasing gifts and organizing meals, you have a lot on your plate to get done before the big day arrives. This is where custom Christmas cards come in handy, as they allow you to stay in touch with your loved ones even if they live far away. If you want to wow your friends and family with a special holiday greeting this year, consider creating premium Christmas cards with Shutterfly. Premium cards include luxury Christmas cards made with high-quality cardstock, beautiful foil lettering, and glitter accents to make Merry Christmas messages that stand out among the rest. This year, send your season's greetings to friends and family members with custom holiday cards made with luxe designs.
How to Make Christmas Cards That Wow Recipients
If you are pressed for time, you might be tempted to drive over to your nearest retail store and pick up a box of general cards to send. However, with the quick service offered at Shutterfly, you can get yourself a set of holiday photo cards that are distinctive and unique and still have them in the mail in time for Christmas Eve. With the premium Christmas cards we have available, you are bound to find something that you love and that reflects your family's personality and lifestyle. Browse through Shutterfly's collection of premium custom holiday card designs and choose your favorite. You can then customize the trim, cardstock, and holiday greeting to make your luxe card one-of-a-kind. Next, choose your glitter or foil colors. Premium Christmas cards can be made with gold foil, rose gold foil, silver foil, and beautiful glitter lettering. Upload your favorite family photos and everyone's names to your greeting card and review it one last time before sending it off to loved ones.
Premium Christmas Cards and Stationery
To make your luxury Christmas cards even more special, choose a custom envelope adorned with holiday-themed designs your recipients will love. You can even take your greeting cards up a notch with corresponding Christmas return address labels. Your family and friends will smile as soon as they open your personalized Christmas cards showcasing the best pictures of your family. When you're ready to send your beautiful cards, use our free address book service and Shutterfly can mail your happy holidays messages for you. If you want to send loved ones something leave under the Christmas tree along with your cards, consider making personalized Christmas ornaments for the tree or custom Christmas gifts that will wow your loved ones. If you missed the deadline to send Christmas greeting cards before the holiday arrives, make custom New Year's cards celebrating the upcoming year and new beginnings.
Related Products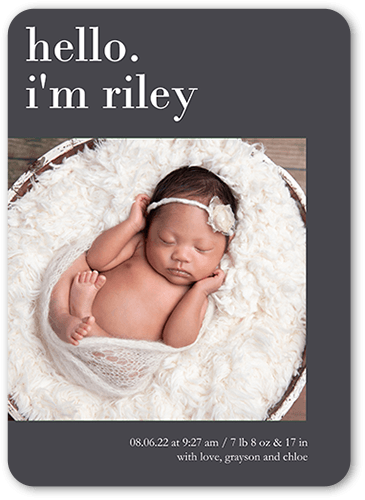 Hello I Am 5x7 Personalized Foil Card by Yours Truly. Announce your newest arrival with this stylish birth announcement. Add your baby's name, a favorite photo and the news everyone's been waiting for.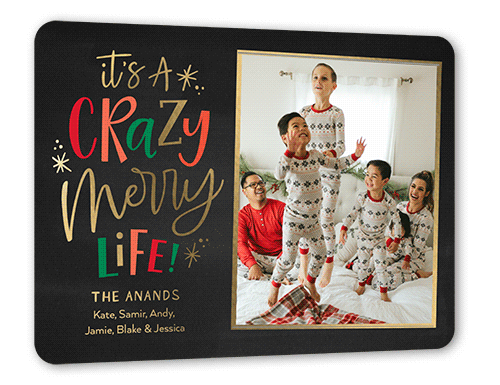 Crazy Merry 6x8 Personalized Foil Card by Stacy Claire Boyd. Send a Christmas card friends and family will love. Add your own greeting and everyone's names. There's room for more photos and wishes on the back, too.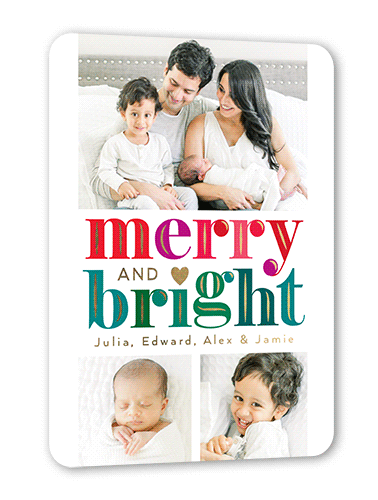 Delightful Letters 5x7 Personalized Foil Card by Stacy Claire Boyd. Send a Christmas card friends and family will love. Add your own greeting and everyone's names. There's room for more photos and wishes on the back, too.