What customers have to say about our Baptism Invitations
January 23, 2019
Adorable!
"Exactly what we were looking for in an invitation for our son's baptism. The paper and print quality was fantastic!"
January 5, 2019
Beautiful quality cards
"I love these cards and have ordered many over the years. The paper is very nice and heavy for both the cards and envelopes."
December 27, 2018
Yippee Skippee!
"Just PERFECT as to what I wanted... Brilliantly depicted. Graciously received..."
December 23, 2018
This website for placing a simple card order is the worst.
"Impossible. All the other reviews that express frustration with using the Shutterfly website are correct. It is worse than frustrating."
December 18, 2018
Turned out great!
"These invites turned out great. I would definitely recommend!"
Celebrate Your Newborn with Pink Baptism Invitations
A baptism is a special occasion to celebrate the introduction of a loved one into your faith. In many cases, baptism might double as a celebration of a new birth or the occasion upon which a baby is named. If you're planning a baptism ceremony for your child, then these pink baptism invitations are a great way to start off on the right foot.
Invitation Etiquette
Generally speaking, you should start sending out invitations for a baptism a few weeks in advance. Be sure to invite your friends and relatives; you may also want to consider inviting your neighbors or members of your congregation. If you're trying to plan for a specific number of people, be sure to request an RSVP, and consider setting a deadline for responses. We offer a guide to help plan a batism party of any size.
Provide Useful Information
There are a few things you should make sure you include on the invitation—important information such as location, date, time, and planned duration. If you'll be having a reception in a different place than the ceremony, be sure to include both addresses and times. You should also include the name of the person being baptized, the names of the hosts, and contact information so people can get in touch. Our handy template will help you remember to include everything so that all the details are in place.
Pretty in Pink
These pink baptism invitations are beautiful and unique, colored perfectly for your baby. If you want something that's fun and festive, these pink invitations capture that feeling perfectly. Pink is a great color if you want a traditional invitation for your baby. It can also help recipients identify the gender of your baby if the name is gender neutral—such as Taylor or Avery.
Customization Options
Every child is unique, and each of our customizable baptism invitations can be unique too. You can choose flat or folded cards in a variety of sizes, with pretty pink designs that range from whimsical to elegant. You can choose cards with overt religious imagery or subtle understatements. Most of our cards have space for one or more photos so you can include a few pictures of your beautiful newborn.
Starting Out
Here at Shutterfly, we want to help you make the baptism as special as possible, which is why we offer a variety of multi colored invitations. Browse our selection today to find a beautiful and unique invitation design for your child's baptism.
Related Products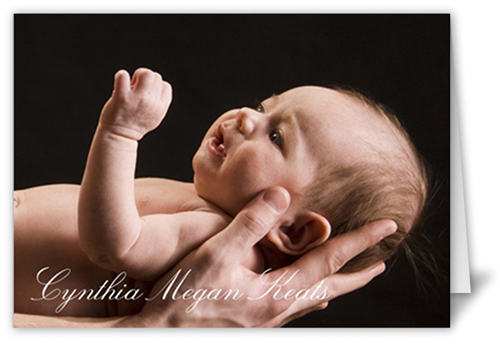 Scripted Name Girl 5x7 Birth Announcements Card by Yours Truly. Simple and elegant, this baby announcement is the perfect way to introduce your beautiful baby girl to friends and loved ones. It shows off a favorite picture with your little ...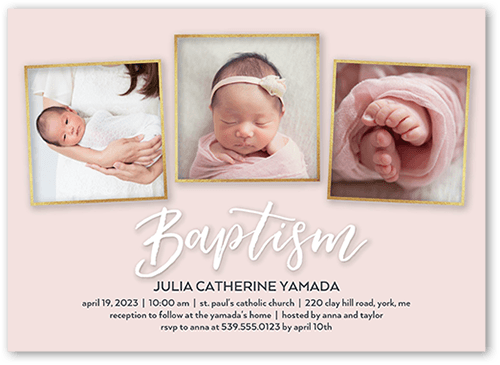 Bright Twinkle Girl 5x7 Photo Card by Shutterfly. Invite everyone to this memorable and blessed occasion. Personalize this baptism invitation with all the event details.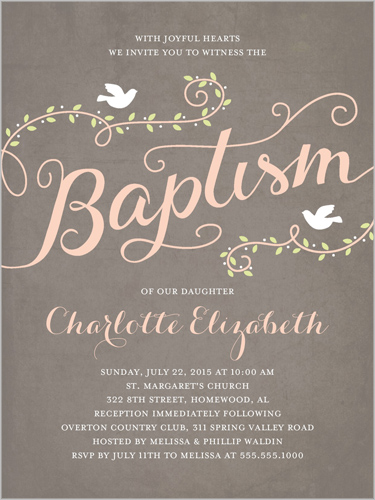 Faithful Flight Girl 4x5 Christening Invitations. Invite everyone to this memorable and blessed occasion. Personalize this baptism invitation with all the event details