Texture & Patterns Baptism Invitations
What customers have to say about our Baptism Invitations
January 23, 2019
Adorable!
"Exactly what we were looking for in an invitation for our son's baptism. The paper and print quality was fantastic!"
January 5, 2019
Beautiful quality cards
"I love these cards and have ordered many over the years. The paper is very nice and heavy for both the cards and envelopes."
December 27, 2018
Yippee Skippee!
"Just PERFECT as to what I wanted... Brilliantly depicted. Graciously received..."
December 23, 2018
This website for placing a simple card order is the worst.
"Impossible. All the other reviews that express frustration with using the Shutterfly website are correct. It is worse than frustrating."
December 18, 2018
Turned out great!
"These invites turned out great. I would definitely recommend!"
Texture & Patterns Baptism Invitations
Design your own custom baptism invitations with Shutterfly. If you've recently welcomed a precious new arrival to your family, it will soon be time for the baptism. Celebrate this religious event in a unique way and invite your friends and loved ones to this memorable, blessed occasion with personalized baptism invitations featuring stylish textures and patterns. With Shutterfly, it's easy to create beautiful baptism invitations that convey your messages and hopes for your child. Upload a photo of your new baby and play with the colors, fonts, and designs of your cards. After the event, your baptism invitations will live on as a special keepsake you will treasure forever as your child grows up.
Design Unique Baptism Invitations
Invite your loved ones to your baby's baptism with custom baptism invitations from Shutterfly. Browse through our collection of stylish baptism invitations with beautiful textures and patterns and choose your favorite design. You can quickly and easily personalize your baptism invitations, thanks to Shutterfly's user-friendly online customization tool. Select from a wide array of customization options, including font styles, colors, trim designs, and more. Highlight a favorite photo of your little one on the front and be sure to add all of the important event details your guests need to know. Be sure to include an RSVP-by date and contact information so you can plan the party with ease.
Baptism Invites and More Ways to Celebrate a Baptism
Seal your baptism invitations by adding unique custom stickers that will delight recipients before they even open the envelope. You can also add flair with self-inking rubber stamps or return address labels, available in coordinating designs. After your baby's baptism, get ready to celebrate with loved ones by hosting a post-baptism brunch at your home and decorate with custom canvas prints from Shutterfly. Showcase standalone portraits of your little one, as well as family portraits – you can even create a stunning, one-of-a-kind collage canvas print on a variety of stylish templates. A baptism is a treasured experience that is also worth highlighting in a beautiful, timeless baby photo book featuring your favorite moments from the baptism ceremony and the celebration that followed it. A photo book provides the perfect opportunity to reminisce about important events like this one for many years to come. Ensure you never forget how sweet your baby looked in her baptism attire and treasure looking at photos of all the loved ones who were there to share this milestone occasion with your family.
Related Products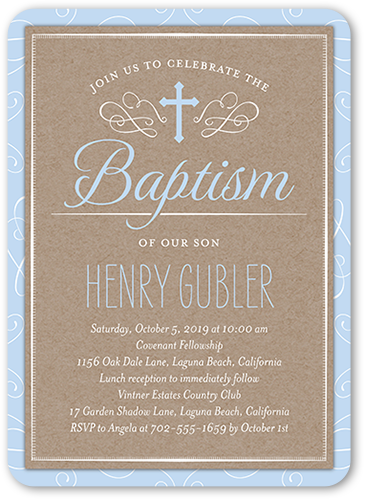 Bordered Purification Boy 5x7 Stationery Card by Blonde Designs. Invite everyone to this memorable and blessed occasion. Personalize this baptism invitation with all the event details.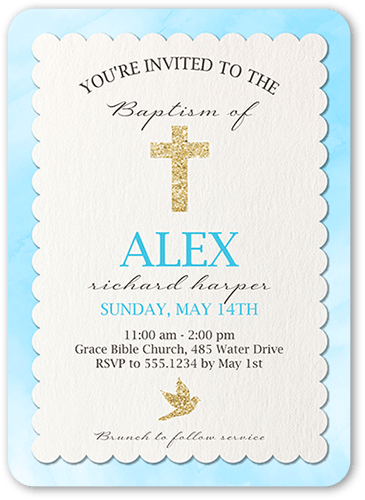 Cross and Dove Boy 5x7 Stationery Card by Petite Lemon. Invite everyone to this memorable and blessed occasion. Personalize this baptism invitation with all the event details.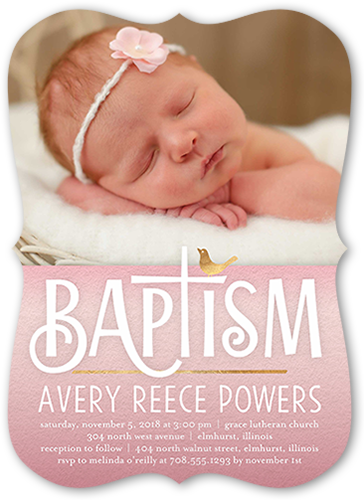 Gradient Christening Girl 5x7 Stationery Card by Float Paperie. Invite everyone to this memorable and blessed occasion. Personalize this baptism invitation with all the event details.