What customers have to say about our Address Labels
"VERY CUTE"
January 26, 2019
Delightful!
"I love the delicate design and lavender color."
"Pretty lables"
"Can't wait to use these cute adress lables!"
January 23, 2019
Love these labels!
"Cute labels, easy to read, fun to make. I have bought several different types now and love them all! Great gifts for grads, new babies, newlyweds, housewarming presents...you name it!!"
Eye-Catching, Beautiful Vintage Address Labels
Vintage never goes out of style. From the runway to home décor to even greeting cards, designers return to older styles to evoke a classic air of sophistication. Whether you consider yourself old-fashioned at heart or you've got hipster sensibilities, Shutterfly's vintage address labels allow you to leave your mark on your letters, greeting cards and invitations.
Design, Ship and You're Done
You don't have to be a graphic design or desktop publishing expert to create your own distinctive address labels. Shutterfly has made the process simple with a collection of great designs and a simple-to-use interface. With our vintage address labels, getting to the finished product is easy. Just pick your label style, add your text, preview your finished product and add it to your cart. There's no guesswork or surprises because the labels that come to your door match what you see in our online design center.
Put an Elegant Touch on Special Occasions
You need address labels for your day-to-day outgoing mail, even in the electronic age. Why not order extras for your upcoming Christmas dinner party invitations? Try working in matching styles and colors with your cards and envelopes, too. Old-school themes are great for summer backyard parties, informal get-togethers or birthday bashes. Want to arrange one final hurrah for your groomsmen and best man before saying "I do"? Make it a "sophisticated gentlemen's night out" and work some vintage flair into your invites. You can also use a vintage address label with many styles of our announcements, and they pair well with cards that have an old-fashioned look.
Count on Shutterfly to make your gift giving, party planning, and interior designing easier. Let your friends and loved ones know you're thinking about them with personalized cards, calendars, gifts and other great items. Don't forget to treat yourself, too, with framed canvas prints, photo books, and home décor products that help you make your interior spaces yours.
Related Products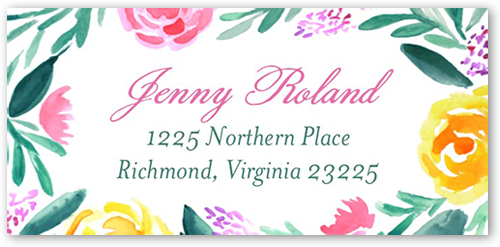 Brushed Flowers Wedding Address Label. Address your envelopes with stylish address labels. Corresponding invitations, gift tags and thank you cards are also available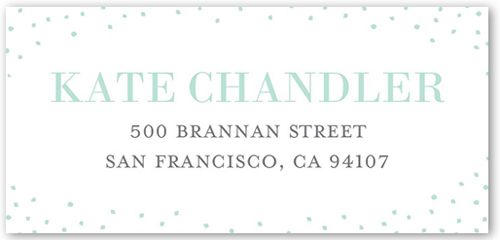 Dreamy Wedding Address Label. Address your envelopes with stylish address labels. Corresponding invitations, gift tags and thank you cards are also available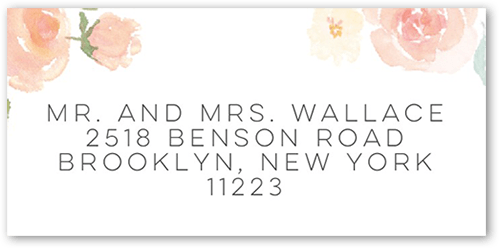 Floral Accessory Wedding Address Label. Address your envelopes with stylish address labels. Corresponding invitations, gift tags and thank you cards are also available