What customers have to say about our Baptism Invitations
January 23, 2019
Adorable!
"Exactly what we were looking for in an invitation for our son's baptism. The paper and print quality was fantastic!"
January 5, 2019
Beautiful quality cards
"I love these cards and have ordered many over the years. The paper is very nice and heavy for both the cards and envelopes."
December 27, 2018
Yippee Skippee!
"Just PERFECT as to what I wanted... Brilliantly depicted. Graciously received..."
December 23, 2018
This website for placing a simple card order is the worst.
"Impossible. All the other reviews that express frustration with using the Shutterfly website are correct. It is worse than frustrating."
December 18, 2018
Turned out great!
"These invites turned out great. I would definitely recommend!"
Blue Baptism Invitations for Your Newborn
If you're trying to plan the perfect baptism, we're ready to help. Our selection of blue baptism invitations can help you welcome friends and family as you celebrate this special day. Start out the planning process on the right foot with a beautiful customized invitation.
Baptism Basics
A baptism is a very important day for adherents of a wide variety of Christian denominations. For a majority of Christians, the baptism is performed shortly after birth and may coincide with the christening or naming of the baby. In some cases, a baptism invitation may double as a birth announcement, and a baptism party is both a celebration of faith and of new life. While many baptism invitations are designed with babies in mind, some may also be suitable for older children.
Great Designs
Our invitations are an excellent way to welcome your friends and family to participate in this special day. These blue designs come in a variety of different styles, ranging from traditional monograms to whimsical doodles. Many different shades of blue are available, whether you prefer teal, sky, navy, or periwinkle. The color blue is traditionally associated with baby boys and is an excellent way to introduce your child to the world—particularly when it comes to gender neutral names such as Jordan or Taylor.
Personalize It
There are a number of different ways in which you can customize your baptism invitations. Once you've picked a design, format, and size, you can choose what kind of paper you want the invitation printed on and what type of trim you desire for the edges. Another excellent option is to personalize the text and photo on the card. Show everyone your unique bundle of joy with a variety of customization options.
Fantastic Photos
Obviously, if you choose one of our many cards that have space for a photo or two, you'll want to pick out the best pictures you have to represent your newborn. For a single picture, you might want to go with an up-close shot that emphasizes the baby's face; if you choose to include multiple pictures, you might also want to include pictures of your newborn in a variety of positions, or even a shot of the whole family together. You may also consider experimenting with using black and white versus colored photos, or even pictures with sepia tones. Shutterfly provides advice on how and when to take newborn photos.
Start Now
At Shutterfly, we want to help you make the process of sending out invitations as easy as possible, which is why we offer special options such as rush shipping or even direct mailing. Get started today by browsing our range of blue baptism invitations.
Related Products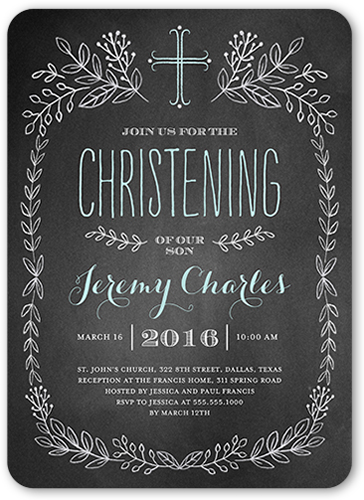 Baptism Invitations Boy 5x7 Baptism Invitations. Invite everyone to this memorable and blessed occasion. Personalize this baptism invitation with all the event details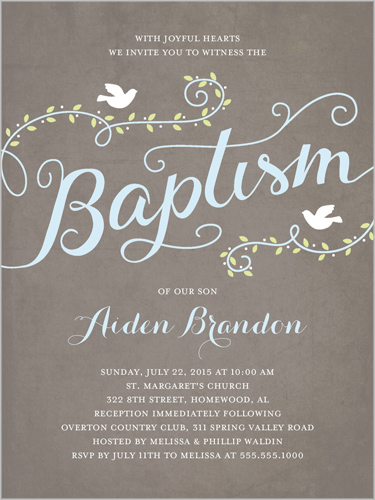 Faithful Flight Boy 4x5 Christening Invitations. Invite everyone to this memorable and blessed occasion. Personalize this baptism invitation with all the event details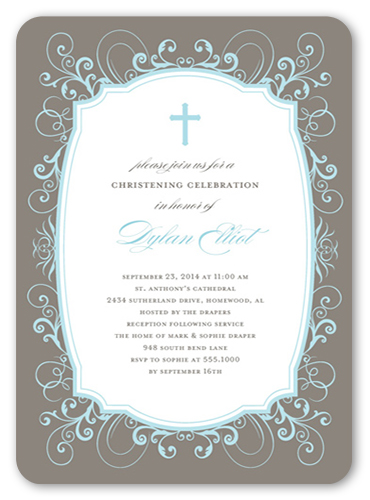 Flourished Border Boy 5x7 Christening Invitations. Invite everyone to this memorable and blessed occasion. Personalize this baptism invitation with all the event details