Monogrammed Address Labels
What customers have to say about our Address Labels
"VERY CUTE"
January 26, 2019
Delightful!
"I love the delicate design and lavender color."
"Pretty lables"
"Can't wait to use these cute adress lables!"
January 23, 2019
Love these labels!
"Cute labels, easy to read, fun to make. I have bought several different types now and love them all! Great gifts for grads, new babies, newlyweds, housewarming presents...you name it!!"
Monogrammed Address Labels with Personal Style
Present yourself in elegant, traditional fashion with monogram address labels designed to suit your personal style. Shutterfly has done the hard part for you, designing a wide range of address labels with everything from feminine florals to traditional geometric accents. Gold foil, a contemporary wrap-around design, and personal touches take these address labels from ordinary to eye-catching. Ready to design your own? Start by browsing the complete collection to find the design that jumps out to you.
Types of Monogrammed Address Labels
Shutterfly creates a number of different styles, each providing unique looks to the envelope.
Round Address Labels: Round address labels are the ideal combination of traditional elegance and modern style. They look lovely in the top left corner of the envelope but act as a chic seal on the flap too.
Rectangular Address Labels: If you love traditional style, rectangular address labels are definitely the way to go. This classic shape boasts a modern look with bold graphics and chic color choices.
Wrap-Around Address Labels: Change the look of your envelope front and back with wrap-around address labels. Place the address portion of these stickers in the traditional place while the decorative accent wraps around to the back of the envelope for a fun seal and maximum visual impact.
Choosing and Personalizing Your Monogram Address Labels
With so many shapes, styles, and designs to choose from, deciding on a favorite is the hardest part of the personalization process. Of course, the initial design is the starting-off point for your custom creation. With your design selected, click the teal "Personalize" button and start the fun of adding a monogram, name, and address. In a matter of minutes, you'll have chic monogram address labels you'll reach for again and again.
Make Your Address Labels a Featured Part of Your Stationery Set
If you love the look of these return address labels, you're bound to enjoy the rest of the stationery items available through Shutterfly. Tiny print constructs each one from top-quality materials and features the same eye-catching designs as the labels. Create a complete monogrammed set by adding small thank you cards, custom envelopes, and even postage stamps to your order. Custom stationery sets make a great gift idea for anyone moving, including newlyweds and recent graduates. Keep your stationery set contained within a decorative basket or box. The Shutterfly ideas page even offers etiquette guidelines to help you out.
Related Products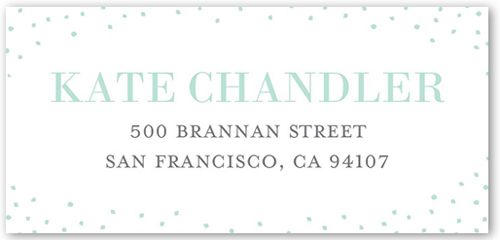 Dreamy Wedding Address Label. Address your envelopes with stylish address labels. Corresponding invitations, gift tags and thank you cards are also available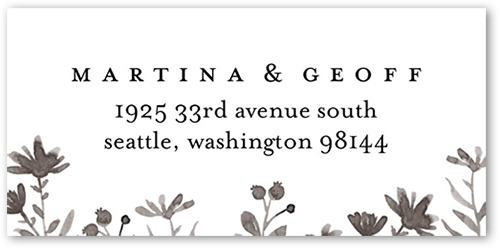 Gleaming Frame Wedding Address Label. Address your envelopes with stylish address labels. Corresponding invitations, gift tags and thank you cards are also available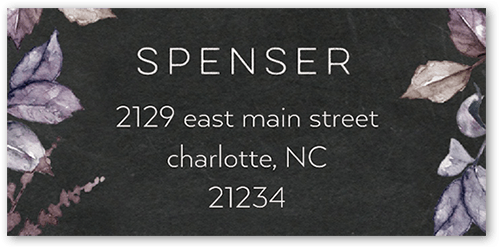 Gleaming Garden Wedding Address Label. Address your envelopes with stylish address labels. Corresponding invitations, gift tags and thank you cards are also available